About Private Property and Public Power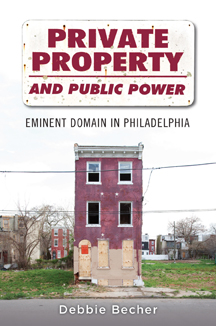 News media reports on eminent domain often highlight outrage and heated protest. But these accounts, Debbie Becher finds, obscure a much more complex reality of how Americans understand property. Private Property and Public Power presents the first comprehensive study of a city's acquisitions, exploring how and why Philadelphia took properties between 1992 and 2007 for private redevelopment. Becher uses original data collected from city offices and interviews with over a hundred residents, business owners, community leaders, government representatives, attorneys, and appraisers—to explore how eminent domain really works. Surprisingly, the city took over 4,000 private properties, and these takings rarely provoked opposition. When conflicts did arise, community residents, businesses, and politicians all appealed to a shared notion of investment to justify their arguments about policy. It is this social conception of property as an investment of value, committed over time, that government is responsible for protecting. Becher's findings stand in stark contrast to the views of libertarian and left-leaning activists and academics, but recognizing property as investment, she argues, may offer a solid foundation for more progressive urban policies. 
For discount, order directly from Oxford University Press and use promo code: 32824.